HEPiX Fall 2017 Workshop
October 16 - 20, 2017 at HIGH ENERGY ACCELERATOR RESEARCH ORGANIZATION, KEK, Tsukuba, Japan
---
Travel information
Getting to Tsukuba Station and Tsukuba Center Bus Terminal
From Narita airport

Airport bus: ~60 min. (JPY 2,200)
Train: ~90 min. (JPY 2,200)
Taxi: ~50 min. (JPY 20,000 - 30,000)

From Haneda airport

Airport bus: ~120 min. (JPY 1,850)
Train: ~90 min. (JPY 1,820), Haneda airport - Hamamatsucho - Akihabara - Tsukuba
Taxi: ~100 min. (JPY 30,000 - 40,000)

Car rentals at the airports

We do not recommend this option especially for people who arrive at Haneda. Drive the same side as UK, Australia, NZ and etc. Don't forget to bring your international drivers license with the original together.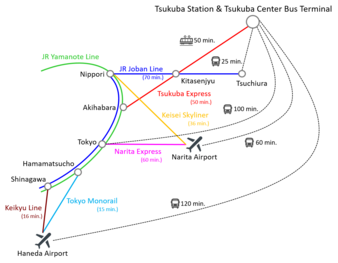 From Tsukuba Center Bus Terminal to KEK (Public Bus and Taxi)
The following two public buses and Taxi are available. Please, do not use the public bus unless you really need especially for rush hour (early morning and evening).
Tsuku-Bus (community bus): ~20 min. (JPY 300)

Direction: Northern shuttle (HA)

Kantetsu-Bus: ~25 min. (JPY 440)

Direction: "Technopark Oho" (18, C8) or "Shimotsuma Station" (71)

Taxi: ~15 min. (JPY ~3,000)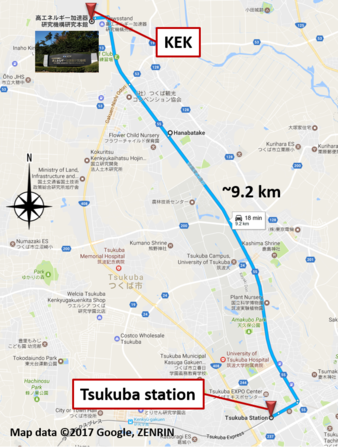 From Hotels to KEK (Conference Bus)
Please note that the conference bus to KEK will come to pick up only for three hotels listed in the registration form. (see Accomodation)
Timetable: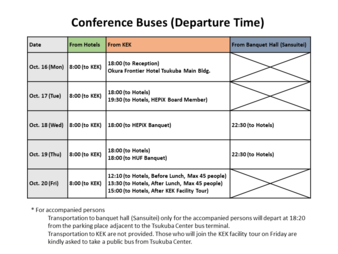 ---
HIGH ENERGY ACCELERATOR RESEARCH ORGANIZATION, KEK
1-1 Oho, Tsukuba, Ibaraki 305-0801 Japan